by Andrew Lester
Feb 22, 2016
Kim Kardashian Inspired Wedding on a Budget
Kim Kardashian Inspired Wedding on a Budget
Wedding On a Budget
A wedding is a celebration of the union of two different people who's a perfect match for one another. It's a one in a lifetime occasion that is filled with blissful happiness and endless expenses. But if you're a popular celebrity like Kanye West and Kim Kardashian, money will not be an issue. Last May 2014, the couple tied the knot in a very expensive location in Florence, Italy.  This A-list wedding was organized by the wedding planner to the stars, Sharon Sacks. No one in the Kardashian-West entourage is telling how much was the expenditure in that lavish destination wedding. However, it is speculated that Mr. and Mrs. West splurged a minimum of 12 million dollars.  This power couple surely knows how to show their admiration to one another in an extravagant way. Not everyone can go inside the wedding venue as the A-listers like them were the only people invited. Big celebrity weddings like this is an eye candy to paparazzi, therefore, the main conflict they have in this wedding is trying to keep the ceremony as private as possible. Well, the Kardashians' don't mind the attention and that's for certain.
You don't need 12 million dollars and a celebrity wedding planner to achieve that "Kimye" inspired wedding. Now you got a lot of pictures of Kim and Kanye's wedding, it's time for you to search for those similar items that doesn't cost half as much as the real deal.  Our goal is to help you find those avenues to make for a budget friendly wedding at ViP Sparklers!
Picking a Cheap Wedding Theme
The couple settle for a classical black and white wedding motif. The wedding was held at Florence's Forte de Belvedere where every corner was engulfed with white details. Kim walked in a white carpeted aisle surrounded by guests wearing black gowns and suits. The traditional wedding altar was replaced by a white stage where they exchange their heartfelt wedding vows. Their first kiss was surrounded by gigantic flower walls studded with pure white roses.
Similar to the ceremony, the wedding reception was really a sight for sore eye. Everything is in white, from the centerpieces to the ceilings. There are hints of black but only to moderation. A black and white motif is easy to achieve and you don't need a lot of money to do it. You can also create that humongous wall of white roses at an affordable price. Replace them with synthetic flowers and no one will notice.  These a just a couple helpful hints for that wedding on a budget!
The Dress and Tux Selection On A Budget
Givenchy Haute Couture had the pleasure of providing the gowns and suits of the entire entourage, from Kim and Kanye down to the Kardashian Siblings. Kim looked immaculate in a custom made white gown with lace panels and pearls matched with a cathedral-length veil. The bridal gown's cost alone is $500,000 dollars and of course she needs a $40,000 Balmain heels to complete the ensemble. Who are you kidding? Five hundred and forty thousand dollars for a dress and shoes, while your budget is just strictly within a $50,000 – $100,000 limits.
Though the mermaid silhouette gown practically covered all her assets, Kim Kardashian still looked fabulous and sexy. The style and cut of the dress were made to hug her curves, conceal her flaws, and highlight her face. Months after Kim's wedding picture appeared online, for sure her wedding gown became an inspiration to small time dress makers. Therefore, you can get that same design at a very affordable cost. You just have to keep on searching.
There were no details on how much Kanye paid for that simple black tux. But since it's a Givenchy, it's certain that your groom's annual salary might not be enough to pay for it. There's nothing really special about Kanye's tux really. It's like the usual black suit you will see in every wedding. Your groom can also look debonair by wearing a tux that really fits properly.
The Ideal Affordable Hair and Make up Stylist
Kim wore her hair down and sported earthly tones for her makeup giving more emphasis to the eyes. The price for getting this look? A whopping $65,000! Well actually, the couple hired a "glam squad" so that all of the guests will look as fabulous like the entire Kardashian clan.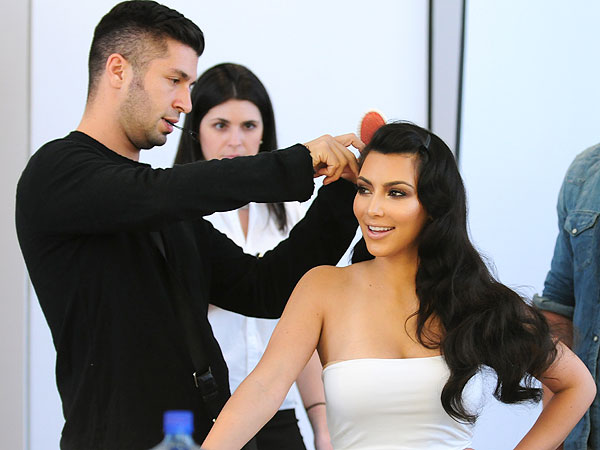 For your own wedding, you also need a team of beauty stylist but not the expensive ones. Most makeup artists nowadays have a Facebook page or Instagram account which they showcase their amazing work. You can easily determine the quality of their work by reading spot on reviews given by their previous clients. Airbrush make up is something to look forward to. It's a popular trend for achieving that no-make up-fresh-bridal-glow look.  With enough research you can always make your wedding budget work!
The Cost Effective Wedding Cake
Mr. and Mrs. West's wedding cake is taller than their 11 month old daughter, North. They chose a 7 ft. tall white wedding cake flavored with vanilla and berry for a price of $7,000. With a cake like that, it's a guarantee that every guests get to know how a 7 grand wedding cake tastes like. Although they should have used a cake sparklers to help complete the look!
A three to four tier wedding cake is enough and for some, a 2-tier is even better. There's no need for a wedding cake that is as big as a basketball player. There are plenty of ways to highlight your cake cutting ceremony by placing Dessert Sparklers or Heart Shaped Sparklers on top of your wedding cake. This will make your ceremony livelier while the guests witness 45 seconds of sparkler which is also a good opportunity for capturing photos using that shutter effect. It's a smokeless and ash free product leaving your cake still edible after the ignition.  You will want to find little ways to make a difference especially working on a budget for your wedding.
 Wedding Sparklers For The Finale
                Being over the top as always, the Kardashian-West couple finished the event by filling up the Italian sky with $30,000 worth of fireworks display that will leave you in envy. They also incorporated the idea of Wedding Sparklers. It came in various sizes from 10, 20, to 36 inches and simply ignite using a BBQ lighter. The most popular was the 36 inch Wedding Sparklers that has a burning time of up to 4 minutes. The guests form a pathway with the light of the 36 inch Wedding Sparklers as a guide for the grand wedding exit. The 36 inch Wedding Sparklers were also being used for enhancing the wedding photos. There are plenty of ideas on how Wedding Sparklers can transform your wedding into a vibrant and mesmerizing event like the Kim and Kanye wedding.  Wedding Sparklers are one of the cheapest things that make your wedding memorable while while staying in the budget for your wedding.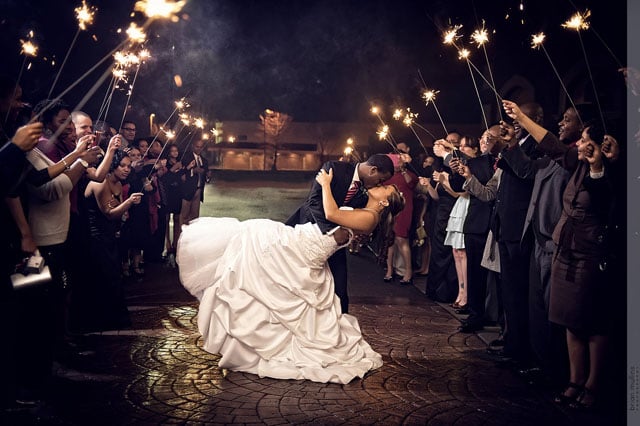 The Wedding Bands
The couple reportedly spent an estimate of $2 million for their wedding bands made by Lorraine Schwartz (Kim Kardashian's favorite jewelry designer). The power couple's wedding bands don't have a big rock on it – its design is simple and elegant looking, and that's what a wedding ring should be.
There are plenty of wedding bands you can choose from without even spending near to a hundred thousand. Your wedding bands is a symbol of infinity, trust, and endless adoration towards each other. It doesn't need to be expensive. After all, you should be the one putting meaning on your wedding bands and not the other way around.
The Highlight of the Event
There are lots of things to expect in a star studded wedding celebration like this one. The venue itself is already an attraction and entertainment to the guests and the newlyweds. Forte di Belvedere is situated amidst the discreet side of Florence, Italy. The venue is a perfect setting for an intimate celebration away from the hustles and bustles of the modern city. It has a vintage touch to it and it's overlooking the majestic views Florence has to offer. The price tag you have to pay for this one of a kind venue is a minimum of $400,000.
 Start searching for nearby locations that can offer you the exact solemnness like the Forte Di Belvedere has to offer. One aspect to consider is by getting married on a tropical destination. There are plenty of resorts which lets you book the entire place for an event at a very reasonable cost. Get married along the shoreline while having the sound of the ocean waves your choir from nature.
What's a celebrity wedding without guest performers? The couple was serenaded by three songs from Lana Del Ray and an outstanding performance by Andrea Bocelli. Beyonce and Jay Z was also expected to perform during this event but backed out at the last minute preferring to spend the weekend at the Hamptons. The total cost of this musical entertainment is $1.7 million.
Hiring a famous music icon in your wedding may not be a good idea. Aside from being expensive, a popular singer might steal the spotlight on you. The last thing you want to happen it transform your wedding into a concert arena. There's an alternative way of providing entertainment to your wedding such as hiring a DJ or a live band. It'll not cost you plenty, plus, you'll be able to take control of the music they're going to play.  These are just a few great ways to achieve your dream wedding on a budget.